15+ Free Real Life Workbench Plan Projects and DIY Design-2023 [Workout Plan]
These days, finding a good workbench for a good price is not an issue. However, sometimes, people want to build one themselves. Some do it because they like to build things, others do not have enough budget to afford manufactured workbenches. Or maybe, your needs are so specific that you can't find the right model on the market. Either way, you can perfectly build a workbench yourself. It may take some time and patience, but the result will undoubtedly satisfy you.
We now offer you 15+ free interesting workbench plan projects to look into. They are all quite unique and can have a plethora of uses. If you want, you can use them as-is and just follow the guidelines if you are completely inexperienced or slightly modify them to build a workbench suitable for your needs.
Block-and-Pipe Basic Workbench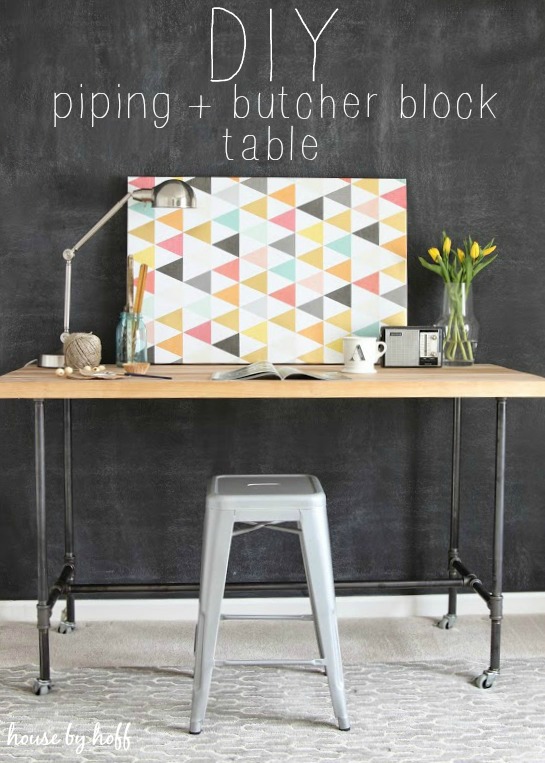 Let's start with something simple. this Block and Pipe Basic workbench plan is quite basic and requires neither much resources & time nor too much experience, though you will still need some time to build a quality workbench with this plan.
The shortlist of required supplies includes a level, drill, optional pipe wrench, wood screws, and whatnot. This plan shouldn't take more than a couple of hours. In the end, you get some basic working surface to fulfill your projects. If that is not enough for you for some reason, you could enhance the design with tool racks, lights, and basically anything you might need.
Miter Saw Bench
This workbench plan is actually a handy miter saw bench. It features a number of storage pockets, a lengthy bottom shelf, and a large work area. Besides, this bench has casters. Depending on the choice of the casters, the stability of the bench will differ. If you install locking casters, preventing the bench from undesirable movement will be easy. Otherwise, you could just avoid installing wheels if you don't really need them.
This project is one of the harder ones and will probably take quite some time to complete. If you need such a bench, take a look at its guide to see if you can manage it.
Workbench with Built-in Table and Miter Saws
If you have been wanting to build a multi-tool bench, this plan might be good enough for you. This bench is not as long as the previous miter saw we examined. In fact, this one may actually be more convenient as it is longer than the aforementioned miter saw bench. With this bench, you will be able to place much bulkier items and instruments on the below storage shelf. And judging by the images, this design can perfectly accommodate moderate-size air compressors and other machines.
This plan also implies the installation of wheels, but it is up to you whether or not to follow these guidelines fully.
Multi-Tool Workbench
This multi-tool bench actually has a flip-flop design. Rather difficult to implement, it is a good choice if you have many machines that you want to keep in one place. The downside of such a design is that you won't have much free surface space to work on. There is some free storage space on the bottom shelf, but your machinery can take up as much as half of its volume.
You can always install fewer machines than this design suggests. Besides, you can even enhance it by adding more flip-flops for your tools or just adding some free workspace by using the multi-tool workbench plan. Just be mindful that building such a bench would probably be quite hard and time-consuming.
All in one workbench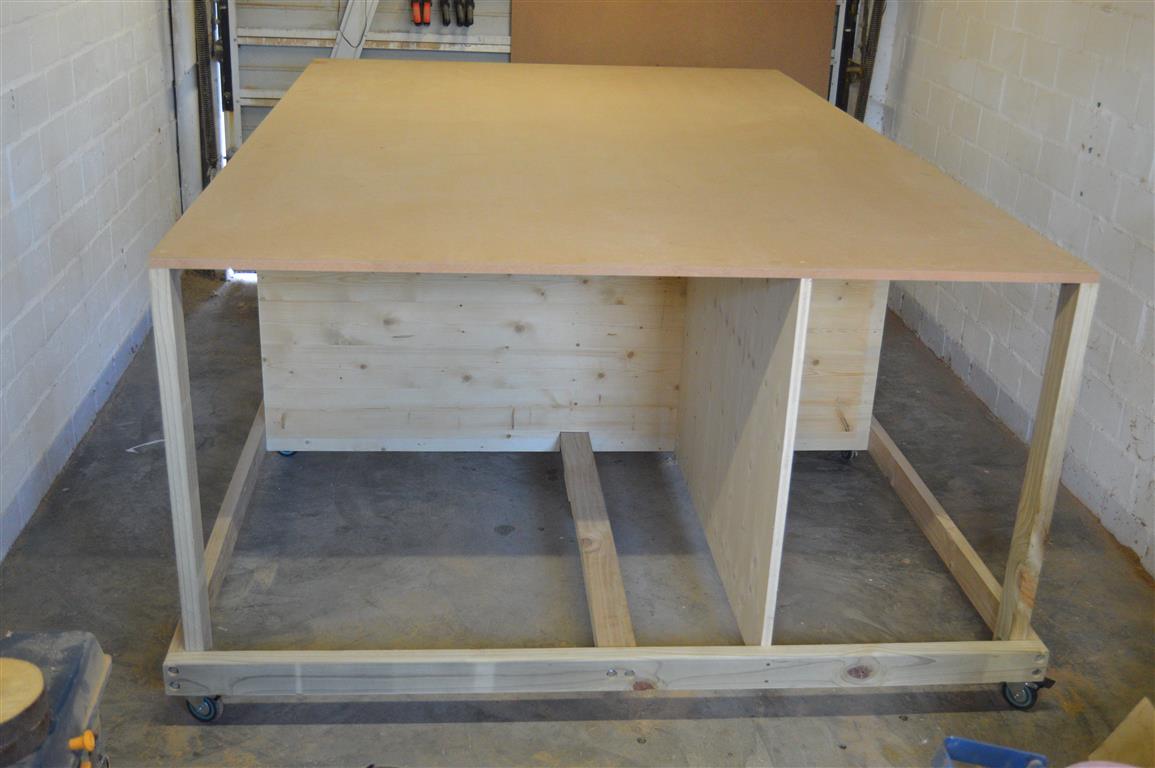 This is a more or less basic workbench. Unlike the previous design, this bench has much more free table space for a wide range of tasks. It is simple as well –it basically consists of table and shelf surfaces. Speaking of surfaces, the top is quite expansive. Plus, the bottom shelf is quite roomy. Don't also forget the wheels, which will be of great use for those who absolutely need mobility.
This workbench should be fairly easy to build and probably won't take much time. It is a great Workbench project plan if you just need the workspace and nothing more.
Simple Workbench with a T-Track
This design is remarkable for its clamps, which should be perfectly capable of holding in place large and thick workpieces. Moreover, the clamps offered by this plan are quite versatile – they can hold items from small to large sizes. Moreover, you should also be able to fixate oddly shaped items. Theoretically, this workbench should work as a sawhorse as well.
Another interesting feature of this design is its drawers and a storage cabinet. This means that storing your instruments and other items in an organized fashion is quite easy with this workbench plan. If this workbench is the one you need, you could download a detailed plan and start building it.
DIY Cheap Workbench
This project doesn't need much time and, most importantly, much money. This workbench has bottom and top shelves as well as a tool rack. While suitable for a wide range of projects as it is, this workbench's beauty is that it is highly expandable. You could just take the plan as a framework and add your own things like drawers or clamps. Imagine what enhancement opportunities you can have with this plan! But probably, the abundance of tool racks, shelves, and inbuilt illumination make this workbench quite versatile.
Rolling Toolbox Workbench
Rolling tool cabinets are exceptionally useful as-is, but what if you were to install a working surface on top? Sure, it won't be much in terms of workspace, but if you won't be doing large projects, the size will be just right.
This rolling toolbox workbench plan also offers you to install tool racks on the sides, which will be a good place to keep your most-used tools at. Too bad that the toolbox doesn't have interior space for machines like air compressors.
Large 4 x 8 Workbench & Outfeed Table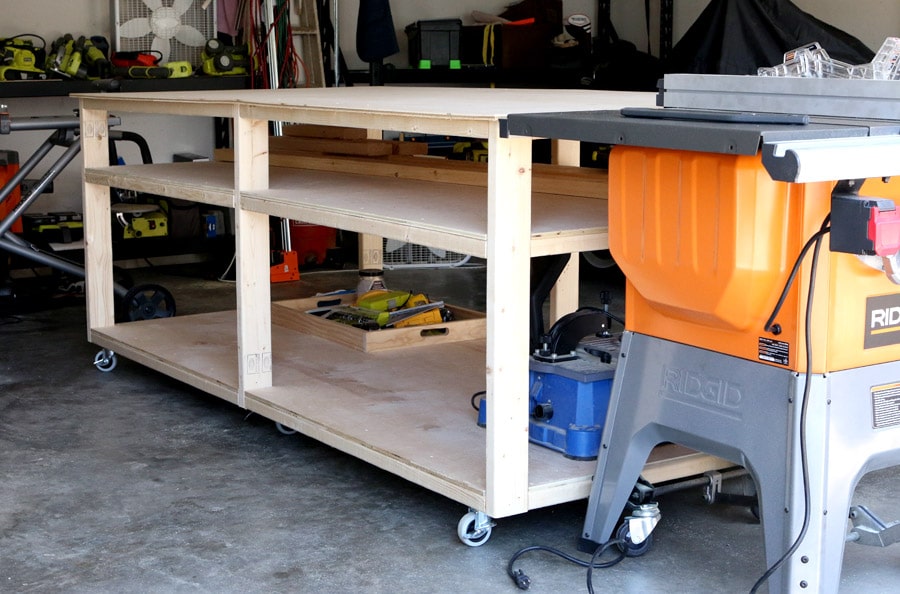 This huge workbench is a dream for large projects. Besides, it could be used by multiple people at once, which would be great for small workshops.
Though plain and simple, this design can offer a wide range of features for you. The lower storage shelf at the bottom has enough space for machinery while the upper shell is a good place to put your tools when not in use. The workbench also has magnetic strips running along the legs to hold screws and whatnot.
All in all, this design is quite straight-forward and shouldn't take much of your time.
Woodworker's Bench
As the name implies, this workbench is built for woodworkers. It features a number of smart and handy design features. Firstly, it has branch dogholes on the top surface of the table. By installing dogs in different positions, you will be able to fix the workpiece the way you need. This bench also has two vices with additional bench dog holes. In fact, bench dog holes occupy most of the table's surface, including the legs. This allows for the flexible positioning of differently sized workpieces ranging from small wood boards to doors. The bench also has a bottom storage shelf.
Woodworker's bench requires good precision for building, mostly because of the holes, though it shouldn't take much time to build. You could also enhance it with wheels if you wish. Go to the Woodworking workbench plan to build with your own hand.
Small flip-top Workbench
Reminds you of something we already featured, doesn't it? The small variant of the big flip-flop bench is a better suit for those who mostly work with a single machine. Just right for home projects!
As it is, this is one of the simplest workbenches you can make, if you do not take the flip-flop surface into account. This particular plan doesn't suggest a bottom shelf, but you could make it yourself. Besides, you could make the side walls solid to make them suitable for tool racks. Attaching magnet strips and a power strip to the feet is also a nice idea. But if you do not need all those things, the base design should be able to perfectly satisfy your needs.
Folding Workbench
This roll-around folding workbench design is quite remarkable. It may remind you of the basic folding tables, and it pretty much is.
When folded, such a workbench table won't take up much space. Compactness also makes this table easier to transport. Inside, the base design has a number of shelves, though they may be too narrow for your big tools. The folding workbench also has tool racks on the sides.
Building this worktable shouldn't be too difficult. Maybe you even have an unused foldable table, which you only need to slightly enhance with tool racks and other necessary attachments to turn it into a workbench. Overall, this design provides a large workspace for general applications.
Modular Workbench
With its multitude of cabinets, shelves, and drawers, the modular workbench has a lot of storage to allow you to keep the most of if not all your tools at hand. This is essentially an ideal garage workbench. Apart from providing you with an organized way to store your tools and machinery, the modular workbench makes your garage look more complete.
The modular workbench is quite inexpensive to build and should take about a weekend to construct. If you have been looking for ways to enhance your garage, try this design out.
Workshop Assembly Table
This workbench has a nice number of interesting features. Firstly, it has a sectioned shelf designed for the storage of power tools. Just below is another, shallow storage space. Another remarkable feature is the inbuilt cabinet for an air compressor and an air hose reel to keep the compressor's hose tidy and accessible. A set of tracks sits on the surface of the table while a saw is installed at one of its ends.
Too bad that the plan isn't actually a thorough tutorial, although you should be able to replicate the design if you have experience.
Your Own Dream Workbench
Did you notice a common feature among the presented workbench plans? They are all built for a number of specific purposes. Know what the choice of attachments and compartments is dictated by? Each of the builders constructed the workbenches for one's own requirements.
The point is that you do not necessarily have to fully follow the above guidelines. Furthermore, you should probably consider them merely a base, some kind of inspiration for your own projects. After all, a workbench with vices won't have too much use if you do not need them. As great as the plans in question are, there may be something better. This doesn't mean that the presented designs are surely useless for you. In the end, maybe some of them are your kind of thing precisely.
Make A Potting Bench
Whether you need mobility, functionality, storage, or something else, it is your demands that shape what your perfect workbench would look like. Just do not forget to take your experience and budget into account. If you are not sure what to do, you should probably start with something smaller or maybe even think about buying a manufactured workbench.
Use your imagination, and you will build the ideal workbench!
Resources: