14+ DIY Outdoor Bench Plans (Budget-Friendly)
While furniture adds comforts to your home, some perfect benches can cheer up the outdoor of your home, and that is not expensive at all. Some beautifully designed outdoor benches are enough to bring the desired comfort to your garden. Garden benches are the ultimate finishing touch to your perfectly designed landscape. A comfortable garden bench at the end of a meandering path or under your favorite tree is not just a sit. It is a place to unwind the work pressure.
There is a wide range of garden benches that can complete the natural beauty of your garden along with your comfort. Undoubtedly, you can buy one from the furniture store and install it in your garden; however, it makes one much more budget-friendly. Even you are a novice with the blueprints, step-by-step guidelines, cut list, and material list will provide you a complete picture, and you will be able to complete your outdoor bench project within one or two afternoons.
Modern Garden Bench
Use only $35 worth of wood and supplies and your beginner-level expertise to build a modern DIY bench without any nails or screws. This inexpensive and load-bearing bench, with its modern rustic look, is suitable for the porchway and outdoor. DIY Outdoor Bench Inspired by Williams Sonoma (So Easy!) Will give you all details about cost, material list, tools, and step-by-step guidelines along with images and will lead you all the way to build one simple wooden bench. You can also check the DIY Modern Outdoor Bench | Modern Builds for a better understanding.

Mid-Century Slatted Bench
This Gorge nelson inspired mid-century slatted bench is a happy marriage of iconic style and armature handiwork. The 2″x 4″'s and 1″x 4″'s that give the bench a perfect mid-century look will cost you very little; hence will add an aesthetic vibe at the corner where you intended to set it up. With some simple tools and a box of big lumber, if you can make one by following the step-by-step guide given in MID-CENTURY SLATTED BENCH DIY.
2×4 Benches and Side Table

A simple side table requires some 2×4, screws, and some standard woodworking supplies like glue, saw, etc. this plain hence comfortable outdoor bench can be an excellent sitting place in your garden. The cutting diagram, making a plan, equipment, and instructional video available in How To Build A Comfortable 2×4 Bench And Side Table make it super simple to build one by yourself.
Beginner Wooden Bench
As the name suggested, this is a DIY project that even an inexperienced craftsman can accomplish. It takes only $20 to create one, and by following the guideline, you will be able to pull the project successfully. Check out the DIY $20 Beginner Wooden Bench Project and BUDGET-FRIENDLY OUTDOOR BENCH for detailed plans, steps that you should follow, and images to create some 17″ tall, 3′ long garden benches as a sitting arrangement for your garden.
Outdoor Bench with Back (Leopold Bench)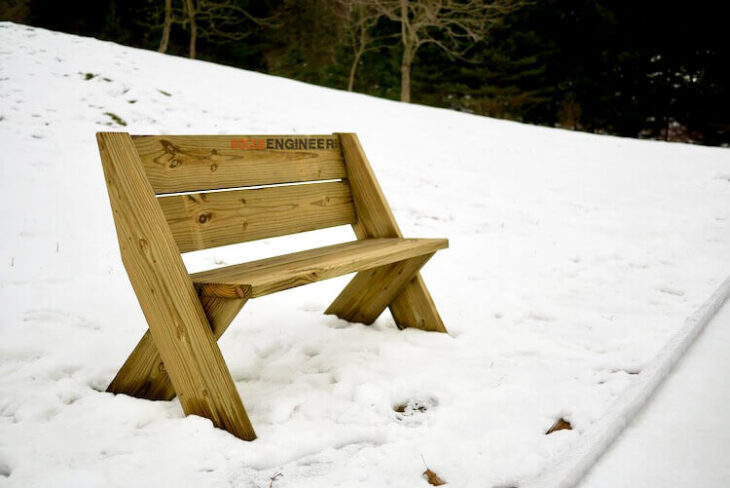 Summer or winter, an outdoor bench is a perfect yet straightforward and comfortable sitting arrangement for a break. This easy, cheap-to-build, look excellent, and cozy Leopold bench can be built with a varied angle of the seat back and legs to ensure proper comfort. This beautifully designed bench will take only 30 minutes, and the estimated cost is only $30-$50 to complete. Even if you are a beginner-level craftsman DIY Outdoor Bench with Back of the Rouge Engineer is the perfect guideline.
Repurposed Chair Bench
A beautifully designed landscape and a unique garden chair are perfect marriage, and a repurposed chair bench can serve your purpose excellently. You can buy an ornamented outdoor bench for the beautiful corner of your garden. However, making one can saves you few bucks with the liberty of designing your very own garden bench. To build the French-style repurposed chair bench, all you need are two chairs, lumber to make two rectangle boxes, a plywood seat, and some paint. Read HOW TO MAKE a FRENCH-STYLE BENCH FROM OLD CHAIRS to get detailed guidelines to make one unique outdoor wooden bench.
Simple Outdoor Dining Bench
A simple outdoor dining bench can be a perfect companion to pass some beautiful time with your family and friends close to nature. With a few lumber, screws, and measurement tools like speed square, pencil, and tape measures, your beginner-level experience is enough to make one nice outdoor dining bench. Go through the Simple Outdoor Dining Bench to get the plan, guideline, illustration, and images. Hopefully, you will be able to make one at your intended length and height without much complexity and within a minimal budget.
Outdoor Bench with Storage
The outdoor bench with storage is a modern combination of the storage box and an outdoor bench. Circular saw blade, clamps, drill/driver, and few materials like plywood, wood glue, screws, adhesive, lid hinge, tee hinge, etc., and your expertise in this field can provide you an excellent storage box come outdoor bench. However, this type of box can be expensive depending on materials- for example. A rot-resistant cedar decking bench will cost you 300 dollars. In comparison, the least expensive construction grade pine wood will cost you 100 dollars and give the bench a rustic look. For more details, check Outdoor Storage Bench | Woodworking How To | I Like To Make Stuff or How to Build an Outdoor Storage Bench.
Brick and plank made garden bench is the easiest and cheapest outdoor bench you can ever make. Take few bricks, arrange them in two parallel columns and then place the plank on the top. Then, your brick and plank garden bench is ready. It is the quickest solution for sitting arrangements in your garden. Maybe it is not comfortable enough like the other option, but you can set up a few of them in the different corners of the garden.
Pallet Wood Sofa for Outdoor
Recently, pallet wood has gained massive acceptance in making DIY furniture. A Pallet wood sofa can be a fantastic option for outdoor living space, which brings a casual yet artistic vibe and showcases your taste in decorating a comfortable home. The most positive part of pallet wood is it can be customized according to your desire, and you can make the perfect sitting spot out of it with your limited woodworking experience and equipment. If you are interested in making one for yourself, check the Pallet wood sofa for outdoor living! For tutorial.
Outdoor Bench with Arbor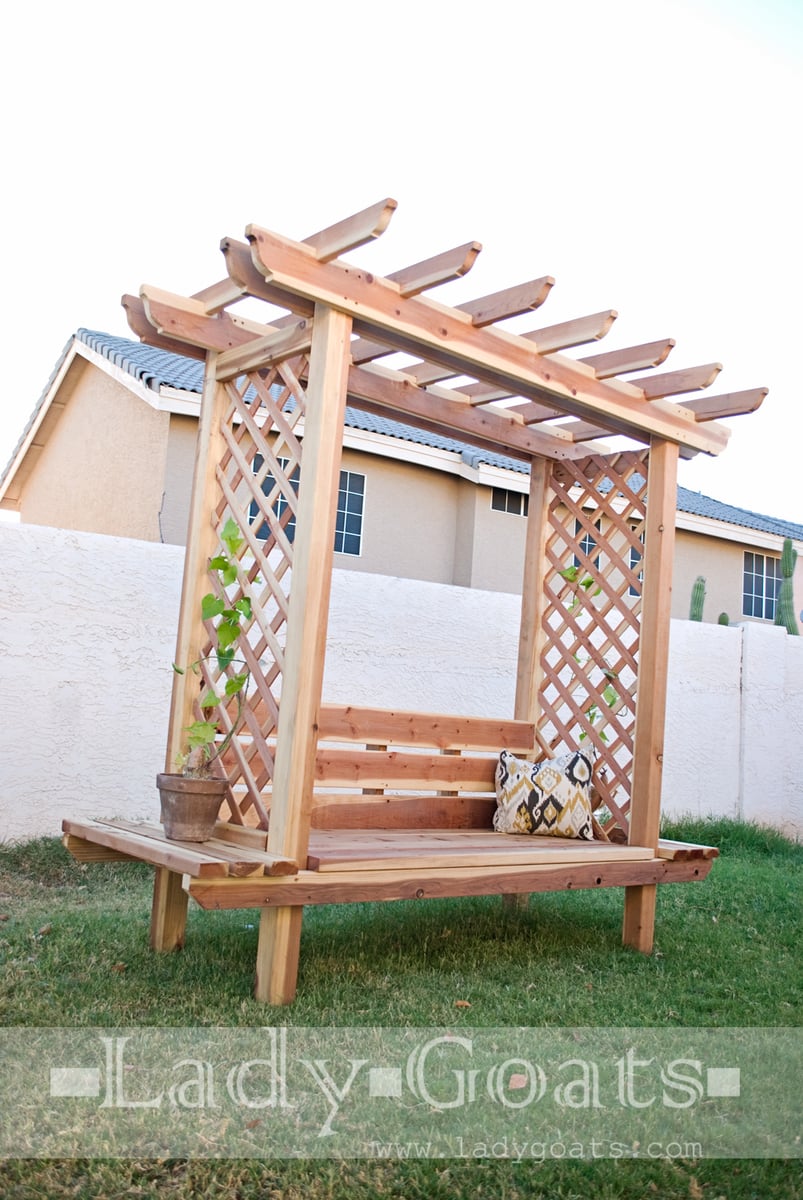 Actually, there are many unique options to decorate your outdoor garden. If you are a parent of kids, you must be thinking of the safety of your children, especially when they are playing in the garden. And for the safety of your kids, you can choose an outdoor bench with an arbor for your garden space. This type of bench is a little bit complex in design and needs a certain level of expertise to pull up, and the equipment list is also a bit long, but once you complete it, you will feel the enhanced beauty of your decorated landscape. If you are interested, please check Outdoor Bench with Arbor for detailed guidelines and an equipment list.
DIY Bed Frame Bench
DIY outdoor bench plan is all about creativity. I mean, if you want, you can even turn a bed frame into a garden bench. If there is an old bed waiting to be dumped, feel free to turn it into a unique outdoor bench. I am sure it will bring that elegance to your garden with that desired comfort. Check TURNING A CRAIG'S LIST BED FRAME INTO A GARDEN BENCH for more details.
Simple Elm Knock-Off Bench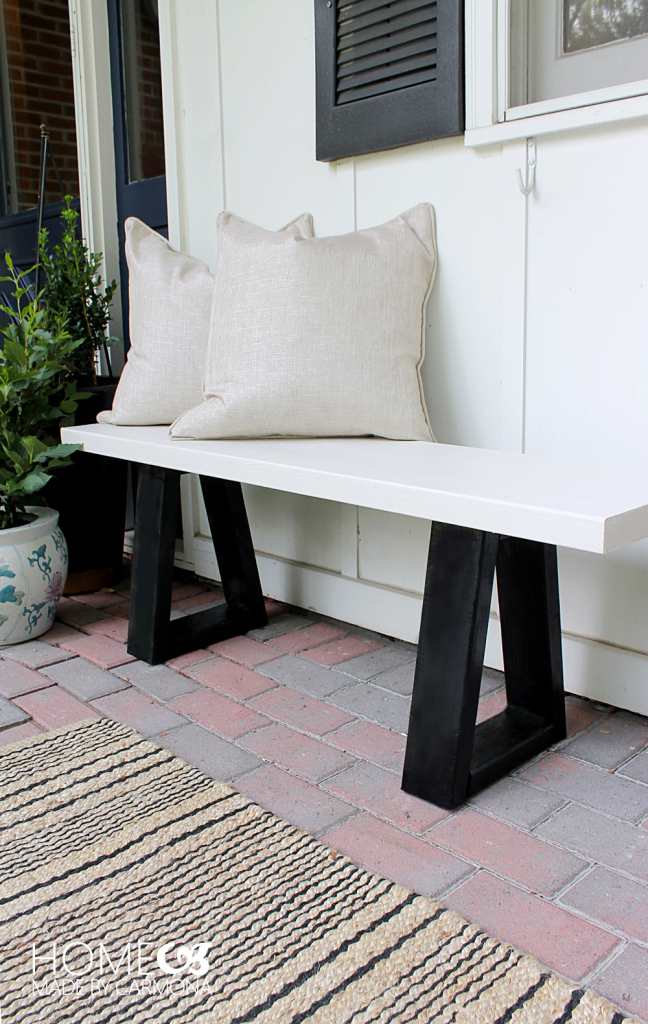 A simple elm knock-off bench can be an aesthetic addition to your outdoor decoration. With your mid-level working experience, 1.5 hour work time, and within $8 to $15 budget, you can make this most beautiful and modern version of the garden bench just by using some essential equipment like a Miter saw, drill machine, measuring tape, and paint of your choice. If you think you want one, don't hesitate to visit WEST ELM BENCH KNOCK-OFF. Now a friendly reminder- after doing the color wait for at least 3 to 4 hours to dry it thoroughly.
Cinder Block Bench
If you are confused about what type of furniture will be perfect for your outdoor balcony or garden, then you can try a cinder block bench. It is also the easiest solution for the last-minute crowd coming over for a barbecue party or outdoor get-together. To make such an outdoor bench, you will need a concrete cinder block, wooden post or beam, concrete adhesive, and color spray or paint, and it takes only 30 minutes to assemble one in your backyard. Would you please check Cinder Block Bench: Easy & Simple DIY Ideas to get a clear idea, tips, and tricks to make one at your outdoor?
Ending Notes
A comfortable outdoor bench plan not only ensures a cozy, warm, and pleasant garden it also brings elegance and beauty to your nicely crafted landscape. Here I have enlisted some options; however, numerous garden bench plan options can complement your backyard or outdoor garden apart from these.
Resources: