22 Free Simple DIY Router Table Plans Ideas in 2023
A router table can really improve the quality of your work. You will be able to work with more precision and faster with a router table. You also get better control of your work with a router table.
However, router tables are not cheap. So, many woodworking enthusiasts opt to build one instead of buying. With these router table plans, you will be able to add an important piece to your woodworking shop or garage. From these free router table plans, you will find both benchtop or free-standing router table. These router tables are a fairly simple and quick woodworking project, and building one of them will cost you much less than buying one from the store.
Below are some free router table plans that have everything you need to make your own router table, providing a plan to follow, step-by-step instructions, diagrams, color photos, cut lists, supplies lists, and materials lists.
Ready to start your next router table project? Start reading.
First, learn a bit about the types of router tables. There two main types of router tables – Free standing and Benchtop.
Free standing router tables are typically larger tables that you can use as standalone tables. However, often this type of router table has removable legs so that you can also use it as benchtop table.
Benchtop router tables are usually lighter and smaller, which makes them easier to move. Their design allows you to use them on top of another table or workbench. They usually also come with brackets, which helps to keep them fixed securely to a tabletop.
This free router table plan from Ana White makes a great looking router table. It offers ample storage space with its four drawers; two of which are small and the other two are large. The drawers are accessible from the front, which includes a drawer only for bits. So, you are getting a ton of storage with this router table. All the drawers are on metal glides, and the entire cabinet is on casters.
The cabinet is made to work with a standard router table. To complete this free router table plan, you will find the dimensions, the list of materials, and a list of tools that you will need, a cut list, standard instructions, diagrams, and color photos.
If you want to build a router table that looks elegant, then this one could be a great choice. Besides its great appearance, it also offers plenty of shelf space for your tools. There is also a pipe system to make dust collection easy.
The price is not mentioned in the tutorial, but even if you don't plan to make it fancy, it still should cost you around $100. This tutorial has 7 steps that include the aforementioned plumbing for dust and debris management along with electric wiring.
This project is not going to require the use of a miter saw unless you want to make those fancy tabletop cuts. However, you are still going to need other regular woodworking tools.
You will be able to build a sturdy router table with this free router table plan from the Woodsmith shop. This router table is as rewarding to build as it is to use. This plan will help you build a router table with your choice of bases, fence-mounted accessories, and a rock-solid table.
You will find step-by-step building instruction along with diagrams, color photos, a material list, and a cutting diagram in this free router table plan. In the end, there are even plans that will help you make some accessories for your router tables, such as a guard for freehand routing and a router bit guard.
This router table plan from Popular Woodworking incorporates all the best features of a store-bought router table at a very low price. While commercial cabinet-based tables cost around $400 to $500, this one will cost you a little more than $200. So, you are saving yourself enough to buy a new router. This full of the features router table is also easy to build.
The excellent features of this router table include an easy-to-use all-important fence, a dead-flat top that will never sag, a large, easy-to-build cabinet that offers plenty of storage and has the capacity to handle the largest routers on the market. There is also an external power switch that makes routing safer and easier.
This PDF file from PopularWoodWorking contains 3 plans for 3 different DIY router tables. All of the three designs are easy and should only cost around $50. Two of the plans are vertical router tables, and one is a horizontal table, and all of them serve different purposes. While the first table has a dust collection, the next one works great as a joint maker.
And the third one is for a lightweight tabletop, which can even be vise-mounted as well as stored easily. It also includes dust collection, plus a neat fence. This plan can easily be build using a nail gun, a saw, and wood glue.
Not every woodworking plan is as detailed as Bob's plans. There are 23 pages of downloadable PDF file that contains detailed measurement and diagrams.
The countertop can be made from MDF or any other appropriate material. It measures 22 x 16 inches and 14″ high, and the thickness is good enough to handle the job.
All the required tools for this project are a table saw, a Kreg Jig, a miter saw, and a drill because you will have to make pocket holes in this project. There is no estimation of cost given by Bob, but you can expect to spend between $50 and $100 in materials for this one.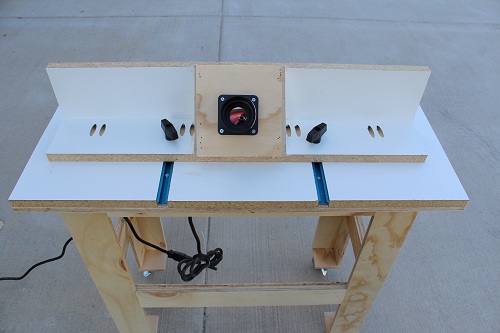 Ethan built this one from melamine, plywood, and some 2x4s. This simple router table is functional as well. The first step in this plan is making the legs, and the next one is adding the rest of the frame. And the final step is the tabletop.
There are 6 steps in this tutorial, including T-tracks on the tabletop to guide the fence. The tabletop measures 32×18 inches and is made of 1/2-inch plywood. There is also a paddle switch included on the side to make the table safer to work with. The least tools that you are going to need for this project are a drill, a nail gun, and a Kreg Jig.
This router tabletop has a simple and compact design, so it will be easy to store. The tutorial here is for the tabletop, which you can then put on top of a foldable Workmate bench.
The router table offers great dust collection, easy bit-height adjustment with no stooping, and a stout fence that is long and easy to adjust. And the best thing about this router table plan is that it will cost you only around $50 to build if you already have a Workmate.
9. Combination Table Saw & Router Fence Guide
This is a two in one option. While it is not exactly a router table, it is worth taking a look at. This is a design and construction plan for a fence that can serve as both a table saw as well as a router table.
This interesting idea is money and time-saving. However, this plan requires both tables to stand next to each other. In this plan, the router table is located to the right of the circular saw.
This project is not probably for everyone, but if you find such a fence interesting and want to build it, then you will find all the needed help from this guide.
The Folding Router Table plans have been the Woodcademy's best seller for 6 years. You can get the router table plans for free. In season 2's episodes 1 & 2 they build an updated version of their very popular Folding Router Table.
These are the complete plans to build this excellent table and you will also find all of the information including hardware lists and sources of the parts used. Here, you will get all the needed information to build your own folding router table.
You can learn how to build this project in detail from the Woodcademy TV episodes.
This DIY router table plan will help you build a portable router table. This table also provides additional leg room for the operator if you join the front legs at 90 degrees to the side rails.
You can build the entire stand from four 2 inch x 4-inch x 12 ft framing studs, which will cost you around $24. This cost is without taking the castors into account. The castors are the ones that make this router table portable. The instructions also tell you how to make the router table stationery for use.
20-3/8 inches x 26-1/2 inches are the upper finished measurement of the stand. A top plate (MDF) was secured to the stand. Then, the router top is secured to the stand top plate using wood screws.
If you choose to build this plan, you are getting a router table that is stable, mobile, lightweight and doesn't cost much.
If you are a minimalist, then this router table might be the one for you. It is very simple as well as straight to the point. This plan will help you build a simple table that you can just clamp to your workbench and start working. And when you are done, you can just unclamp the entire fixture and easily store it out of the way to save space.
There is also a pivoting fence that you can adjust using a c-clamp. This table is made of Plywood, and the fence is a 1 x 4. This minimalist router table should cost you less than $20 to build, and in addition to that, it takes less than an hour to complete.
This guide from Scott gives you a plan that helps you make a router table that is elegant, and you will be proud to have. Scott uses a Rockler router tabletop; then, he simply builds the rest of the table by himself.
The measurement of the table is 24 inches wide, 36 inches high, and 18 inches deep. To complete this plan, 2×4's, 1×3's, plywood, and poplar boards were used.
And if you would like to build your own tabletop, you can just look up any tabletop design in this list. The tools you are going to build this router table plan are a circular saw, orbital sander, a drill, clamps, and a pocket hole jig.
The Deluxe router table plan is one of the most good-looking tables on our list. It doesn't even seem like a router table unless you get closer. It looks more like a cabinet or dresser if you don't look at the top of it.
It is both beautiful and functional. It offers multiple drawers where you can store your woodworking essentials. You will find the entire plan in a pdf. This plan contains a lot of useful information, tips, advices and tricks. You will find all the needed measurements for your plan. There is also the list of tools you will need for this project.
With this router table plan, you will face no problem whatsoever building this router table. this beautiful table is easy to make and serves you well.
This is a DIY router table plans that will help you make a really easy and simple to use router tabletop. It has a laminated top and features T-tracks as well as a miter-track for precision.
The whole tutorial has 11 steps, and they all include tagged pictures. This will help you understand the tutorial better because you can just move your mouse over to the objects in the picture and get a more detailed explanation.
The things you are going to need for this project are a jigsaw, a drill, clamps, and a lot of glue.
This DIY tutorial from DjPolyMath on Instructables has 15-step. It uses a chalkboard to laminate an MDF to turn it into a good-looking router tabletop.
The tools that you will need to build this plan include a hole drill, a miter saw for building the fence, a router, and clamps for laminating the tabletop.
The cost of building this project should go over $50, although purchasing a router table base can increase the costs.
If you have enough wood scraps lying around your home, then you can build this almost free homemade router table. Different scrap woods are used to build this and all of which came together beautifully.
The tutorial for this router table plans includes detailed pictures and diagrams that show you how much you can achieve with scrap wood.
The materials you are going to need for this project are 100mm drain connector, 50mm drain pipe, bolts, screws, glue, silicon sealant, among others. And the tools you will need to use are a miter saw, a circular saw with track, a screwdriver, and a router.
This is an ingenious way to utilize the limited space in your workshop. This plan helps you use just a trash can as a stand for the router table. This plan from Woodworking Tips could be very useful.
You will not get a tutorial for how to build a router table in this guide, but you can get that from this list. What you get from this plan is how to keep your router at an adequate height and collect chips while working.
After making the top of the router table, you put it on the trash can, which gives you a base that can collect any wood shavings.
We are at the end of the list of router table plans. Now, it is up to you which one you want to build. If this list has one or two router table plans that achieved your interest, then we are glad we could help.
The above router table plans are some of the best router table you will make.
You can also find router table plans from Youtube, which are also easy to make and functional. You will be able to see the entire plan unfold in the video so this will make it much easier for you to understand the plan. As you will understand the plan better, you will be able to make the router table easily. Here are a few great looking router table plans from Youtube.
19. Homemade Router Table

This router table plan is a video on Youtube where you will see the entire process of building an excellent router table. It contains five drawers to offer you space for your routing essentials. The table has wheels to make it brilliantly portable, so you can use it anywhere and then store it anywhere.
The video doesn't contain any verbal instruction but it shows you every step of the project. You will see in the video where to use which tool and where to use glue. The entire process of making this router table is in the video, making it easier for you to do the process exactly.
2. DIY Router Table under $20

This video shows the plan for a compact router table. Making it doesn't take much work or materials. You also get step by step verbal instruction in the video on how to make this table. The instruction tells you where to use which tool and the measurements. You can also see how to make the cuts.
This router table plan is very inexpensive and will cost you only around $20. You will only need a piece of plywood and a piece of hardwood to make this table. However, if you want to build something fancier, you can install a switch and vacuum port.
21. Benchtop Router Table

This Youtube video shows how to make a simple, yet functional router table. The design is simple, so it shouldn't cost you much. And the builder will tell you everything you need to know to make this router table. From tools to materials, you will learn every single thing you need to use to make this router table.
The video will show how to make every part, making the process easier for you to understand. And having verbal instruction every step of the way makes it much easier to build this router table.
22. Router Table by JSK-koubou

This is not a simple router table plan. This video is quite long, so making this router table will take time and many materials. The end result should also be more than simple. If you are looking to make a high-quality router table with everything that you will need for routing, then this plan will not fail you.
Guessing from the video and the quality of the table, it should cost you some money. However, if you want to build something great, you will need to spend some money.
This table offers plenty of space with its four drawers and has so much more to offer to the user. You will not find any verbal instruction in the video, but you will be able to figure out and understand how to build this router table.
You will see everything from where to use glue and where to use which tools.
We are at the end of the list of router table plans. Now, it is up to you which one you want to build. If this list has one or two router table plans that achieved your interest, then we are glad we could help.